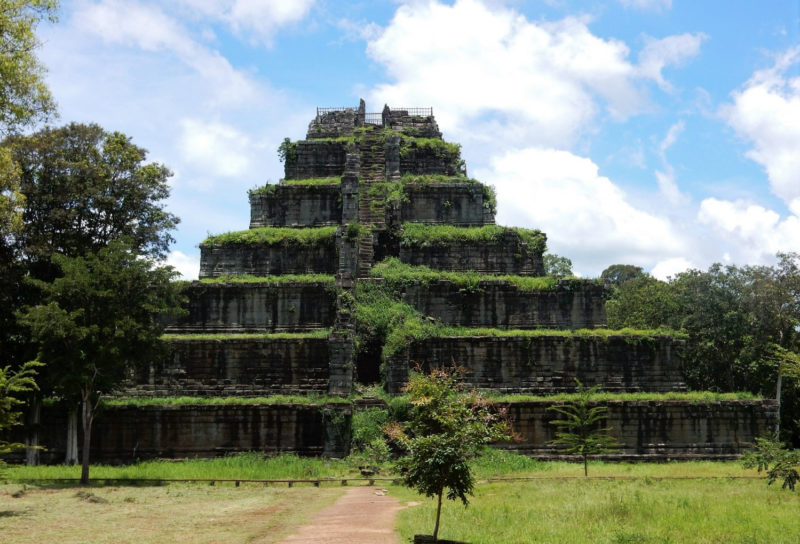 Double Hit of Lost Temples/ Koh Ker & Beng Mealea
Known as Lingapura during the Khmer Empire, Koh Ker served as the state capital for Kings Jayavarman IV and Harshavarman II between 928-944 AD. Deep in the forest, the former capital consists of 180 sanctuaries. Around  30 can be visited today, including the impressive 7-tier pyramid temple of Prasat Prang, which served as Jayavarman's state temple. Apart from Prasat Prang, there are several other outstanding ruins, including the giant lingas and the magnificent elephant temple. Koh Ker lies approximatly 120km northeast of Siem Reap in Preah Vihear province. Khmer Ways offers this tour as a overnight trip (including Beng Mealea), as on a one day trip customers will not have the chance to visit most of the temples due to time pressure.
Beng Mealea, known as the jungle temple, offers stunning photography opportunities of roots intertwining with temples walls. The grounds cover more than one square kilometer, with lush, overgrown vegetation.
Day 1:
Departure from Siem Reap at 8.30 am.
After leaving Siem Reap, we will ride hidden trails and winding tracks through rice fields and bamboo shrouded villages. Our unique route selection keeps you off the roads to the highest degree possible. It is a fairly easy and very scenic ride.
Our first stop will be the Jungle temple of Beng Mealea. As it covers a large area, we will stop there for the rest of the morning before having lunch and heading further north to Koh Ker.
The afternoon will be spent visiting several smaller temples and climbing the impressive 7-tier pyramid for beautiful views over the surrounding areas.
Dinner and accommodation in Koh Ker.
Day 2:
After breakfast, we set out to discover more of the surrounding temples and nature.  We will have lunch and a last look around the temples before heading back to Siem Reap. On the way, we will stop at some very unique rock carvings (only Khmer Ways customers and a few other tourists get the chance to visit, as the way in is rough and can only be tackled by moto or motorbike). Return will be between 5:00 to 6:oo pm.
Included
Guide, Moto, fuel, helmet

Entrance fees to Koh Ker and Beng Mealea

Accommodation (only basic accommodation available)

All drinking water, cold drinks (alcoholic beverages excluded)

Snacks, 1x breakfast, 2x lunch, 1x dinner

Pick up & drop off at your hotel
Price: $180 per Person / $160 per Person for bookings of 2 or more