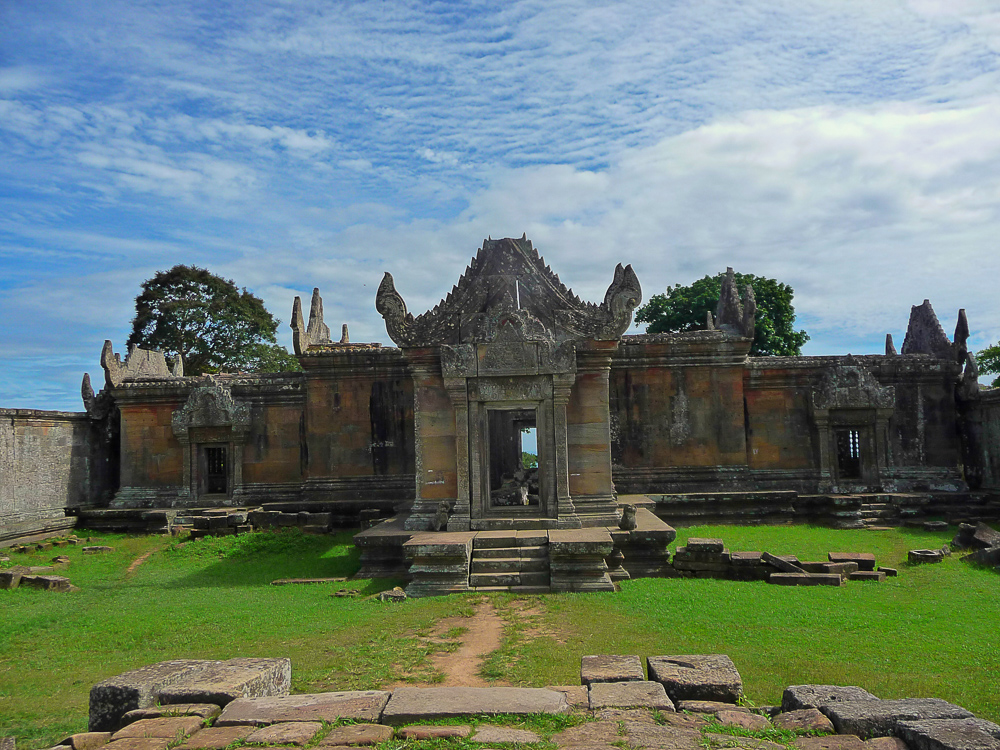 Ride to the Top of the World
This tour gives our customers a very diverse overview of northwestern Cambodia. From places of recent history in Anlong Veng, to the beautiful scenery and the magnificent temple of Preah Vihear, to the ancient capital of Koh Ker and the jungle temple of Beng Mealea, this tour covers a broad spectrum of the Kingdom of Wonder.
Day 1:
Leave Siem Reap early in the morning towards Anlong Veng, the last stronghold of the Khmer Rough on the border to Thailand. Visit the grave and cremation site of the late leader of the Khmer rough regime, Pol Pot, and his cliff-top hideout, with stunning views over the northern plains. We also visit the townhouse and cremation site of the chief military commander of the regime,Ta Mok.
After, the tour will tackle the last stretch of road to the village of Saem for dinner and accommodation.
Good guesthouse with AC. Aternatively, customers can choose to upgrade to the beautiful Preah Vihear Boutique Hotel. Please check options below.
On this day you will also have the option to stop and visit the beautiful temple of Bantey Srei and the waterfall and rock carvings in the river in Kbal Spean. It is a gentle walk through the forest, taking roughly 1.5 hours. For this option, you will have to provide your own entrance ticket, which is part of the 3 day pass to the Angkor Archeological Park (must be purchased in advance at the main Angkor ticket booth).
Day 2:
Set out early to Preah Vihear temple, located in the heart of the Dangrek Mountains. The famed "Jewel of Cambodia" is one of the masterpieces of ancient Khmer architecture and set in a stunning location atop a massive cliff, overlooking vast parts of Cambodia and Thailand.
By mid afternoon, we will return to Saem for lunch before setting off to Koh Ker.
Accomodation in Koh Ker. Basic but clean guesthouse, no AC
Day 3:
After breakfast, we visit Koh Ker. Isolated in the forest, this former capital of the Khmer Empire includes a series of ruins around a Baray (water reservoir). The primary tower is an impressive 7-tier pyramid, which can be climbed for beautiful views of the surrounding area. Other sights include the giant lingas and the scenic elephant temple. After lunch, we will continue our way towards Siem Reap with a stop at the jungle temple of Beng Mealea. Arrival back at your hotel between 5:00-6:00 pm.
Included
Guide, Moto, helmet, fuel

Entrance fees to sights in Anlong Veng, Preah Vihear, Koh Ker and Beng Mealea

External transport up to Preah Vihear ( we will have to hire motos with drivers, as the road up the hill can be dangerous, and we are not allowed to drive up ourselves )

2x accommodation

3x lunch, 2x breakfast, 2x dinner, all drinking water and soft drinks ( alcoholic beverages excluded ), snacks

Hotel pick up and drop off in Siem Reap
Price: $385 per Person / $325 per Person for bookings of 2 or more
Alternative accommodation in Saem: If you wish to stay at this hotel, there will be an extra charge of 75$ per room. Please check out their homepage for more information: www.preahvihearhotels.com